Caucasian
You can watch numerous of some of our over 1000 Caucasian patient results in this Youtube Playlist-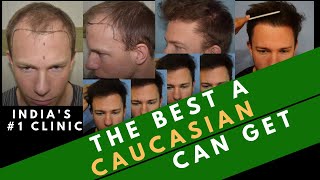 Please do not forget to SUBSCRIBE and press the Bell Icon so you
can continue to get updates when similar results re posted.
This 32 years old healthy Caucasian from UK with type 4 male pattern baldness underwent a 3110 grafts FUE procedure at Chandigarh, India in May 2012.
The results shown are on completion of one year.
FUE System Used : Harris' Safe Scribe with 8mm blunt punch.
Graft Count :
Singles – 632
Doubles – 1298
Triples – 1180